Bloodthorn necromancer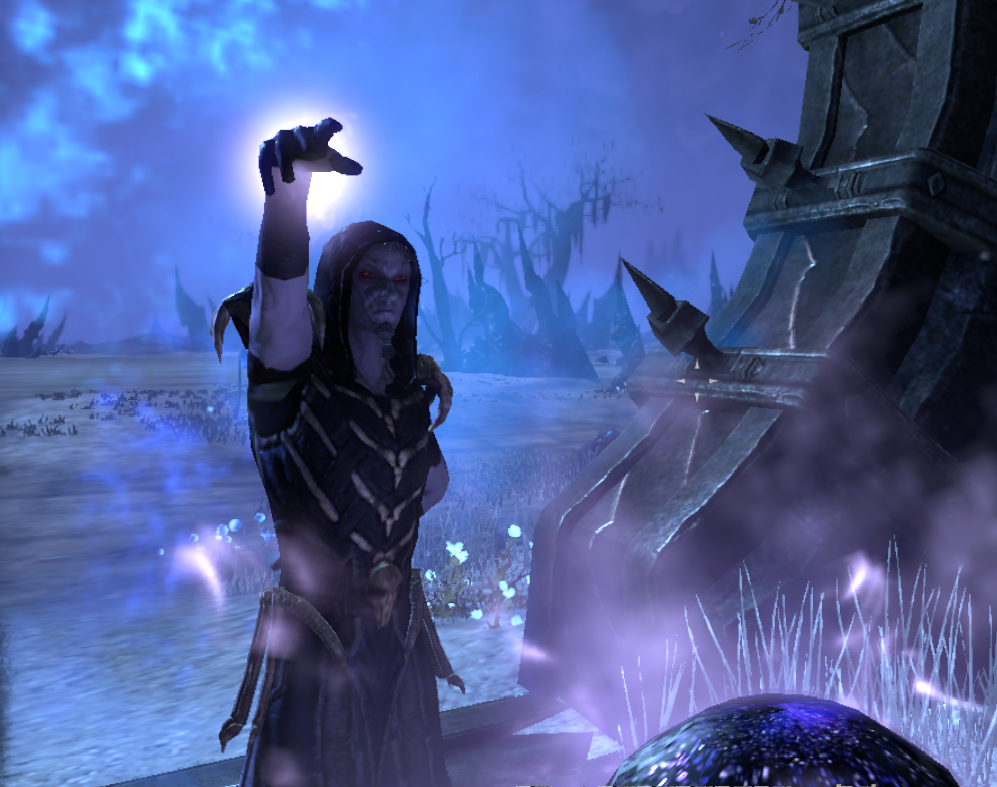 Class: WARDEN
Race: Dunmer (Dark Elf)
Main Role: Damage
Health, Magicka, Stamina
| | | |
| --- | --- | --- |
| HEALTH | MAGICKA | STAMINA |
| 17,7K (+5K battlespirit) | 38K | 16,8K |
Skills
Bar 1
Weapon 1: Destruction Staff

Destruction Staff Skill
Crushing Shock

Destruction Staff Skill
Destructive Reach

Warden Skill
Deep Fissure

Light Armor Skill
Harness Magicka

Destruction Staff Skill
Elemental Blockade

Warden Skill
Eternal Guardian
Bar 2
Weapon 2: Restoration Staff

Warden Skill
Lotus Blossom

Restoration Staff Skill
Mutagen

Warden Skill
Ice Fortress

Restoration Staff Skill
Healing Ward

Warden Skill
Blue Betty

Warden Skill
Eternal Guardian
Armor Types
| | | |
| --- | --- | --- |
| Light Armor | Medium Armor | Heavy Armor |
| 5 | 1 | 1 |
Gear and Item Set Info
*Head: Shadowrend monster set (Heavy, Infused, Argonian 2 hat outfit style)
*Shoulders: Shadowrend monster set (Medium, Impenetrable or divines, Barbaric outfit style)
*Body: Winterborn DLC set (Light, Infused, Primal outfit style)
*Waist: Winterborn DLC set (Light, Impenetrable or divines, Primal outfit style)
*Hands: Winterborn DLC set (Light, Impenetrable or divines, Dark elf 1 gloves outfit style)
*Legs: Winterborn DLC set (light, Infused, Primal outfit style)
*Foots: Winterborn DLC set (light, Impenetrable or divines, Breton 1 boots outfit style)
*Jewellry: All 3 pieces Bloodthorns touch set (Winterborn is harder to get - Maelstrom arena.....................)
*Both weapons: Bloodthorns touch set (Destruction staff - Nirnhoned, legendary quality! Restro staff - Powered, legendary quality!)
Enchantements = 1) Shoulders, Gloves, Waist, foots - Max Magicka 2) Head, Body, Legs - Prismatic defense 3) Destruction staff - Frost damage glyph, Restro staff - Weakening glyph or damage magicka and stamina poison.
Possible substitues = 1) Winterborn substitues - Sloads Sembelance, Overhelming surge, Caluurions legacy, Necropotence, Ysgramor 2) Shadowrend substitues - Maw of the infernal (shadowrend is better because of Minor maim applied), Valkyn skoria (That would mean free slot except winterborn, because it does nice burst too! Or you can use Winterborn and Skoria at once and deal even MORE purer damage, but you will die more often :D) 3) Bloodthorn substitues - Shroud of the Lich, Desert rose, Seducer, Magnus gift
Trait explainment = Impenetrable will save you in PvP very very often but you will lose extra magicka that you would get from Divines trait (You need Mage mundus tho), Infused trait is only on 3 big parts of your gear, its because we want to have larger resources pools.
General Info
Ideal strategy = As a Wardens we will try to deal frost damage while combining it with massive bursts from Bear, deep fissure, Winterborn set and Crushing shock skill. The bear is really good when dueling (opponent gets below 25% of healt = bear 40K execute ultimate - insta death) but you must keep an eye on him, because he can get stuned etc. so in Cyrodiil its not ideal option (You know we necromancers are having it hard these days xD). So we need to get our target under 25% Hp first, for that use this ROTATION - a) Buffs - Blue betty, Ice fortress, Mutagen, Lotus Blossom, switch and use Harness magicka shield b) Attacks - Deep fissure, Ice Blockade, Frost reach, Crushing shock spam (We surely procced winterborn with Frosty attacks :P and our target can be already below 25%, than use Bear Ultimate), If that doesnt happen, repeat the Rotation without buffs. Buff again, If your Ice fortress is gone.
Low Hp, Low Magicka strategy = When you are doing previous strategy and somehow your opponent is winning and your Hp gets too low, you can save yourself with Healing ward abillity, it will gave you huge damage shield while it also heals ya! So after spaming some healing wards, you can activate Harness magicka shield too and you will see that Majority of opponents will lose their mood to keep killing you because they got their resources too low. So If we will get Low with our magicka, we need to drink a potion, use some restro staff heavy attacks, while we are keeping our betty up. That will surely bring you Magicka back (And I didnt count our sustain set!). So If you survived by doing this strategy, you can come back to our IDEAL strategy :).
Vampire = We love necromancy so yeah, we are Vampires! For maximal Vampire usefullnes, stay at 3rd phase. We still get some fire weakness (even If we are Dunmers), but our undead passive compensates it.
Food and Potions = Currently Im using primarily Jugged rabbit in preserves for all pool increasements. But Bloody Mara saves the day :D! Im using 2 kinds of potions: 1) Magicka, health, Immovability (Bugloss, Columbine, Wormwood) When used properly this potion makes you really much more offensive! 2) Invisibility, speed (Blue Entoloma, Namiras root, Blessed thistle) When things arent going our way, we can always fall back! This potion makes it much more easier :D.
Skill substitues = There you have free space to play with. I did my current setup very preciously and It fills its purpose. But still, I will maybe replace my Mutagen skill for Natures Embrace skill, because I found Soul companion few days ago :P.
General Values = Spell damage - 2764 buffed by betty, Spell crit. - 42% buffed by Lotus Blossom
Passives = Get all Class skill line passives, all Destro staff passives, all Restro staff passives, Vampire passives to stage 3, All alchemy passives, All provisioning passives (sry but im lazy to write only necessary ones :D), All Aliance war passives, all Soul Magic passives, Legerdemain - use only improved hiding passive, all Racial passives. I hope i wrote them all down xD.
Champion Point Tips
As Im only around cp600, I will write down only points I have
Red tree:
Steed - Ironclad (Reduce direct dmg) 75, Resistant (crit. resistance) 25
Lady - Hardy (reduce phys. attacks) 31, Elemental defender (reduce mag. attacks) 31
Lord - Bastion (increase your damage shields) 36, Quick recovery (increase healing taken) 10
Green tree:
Tower - Warlord (reduce break free cost) 60, Sprinter (reduce sprint cost) 15
Lover - Arcanist (increase magicka recovery) 65, Tenacity (Increase heavy attack restorement) 30
Shadow - Tumbling (reduce roll dodge cost) 30, Shadow ward (reduce block cost) 20
Blue tree:
Apprentice - Elfborn (increase critical things xD) 31, Elemental expert (Element dmg increase) 61, Spell erosion (increase spell penetration) 28
Atronach - Master at arms (increase direct dmg) 63
Ritual - Thaumaturge (increase dot dmg) 15
Build Rating