Fire Assassin (PVP build under level 50)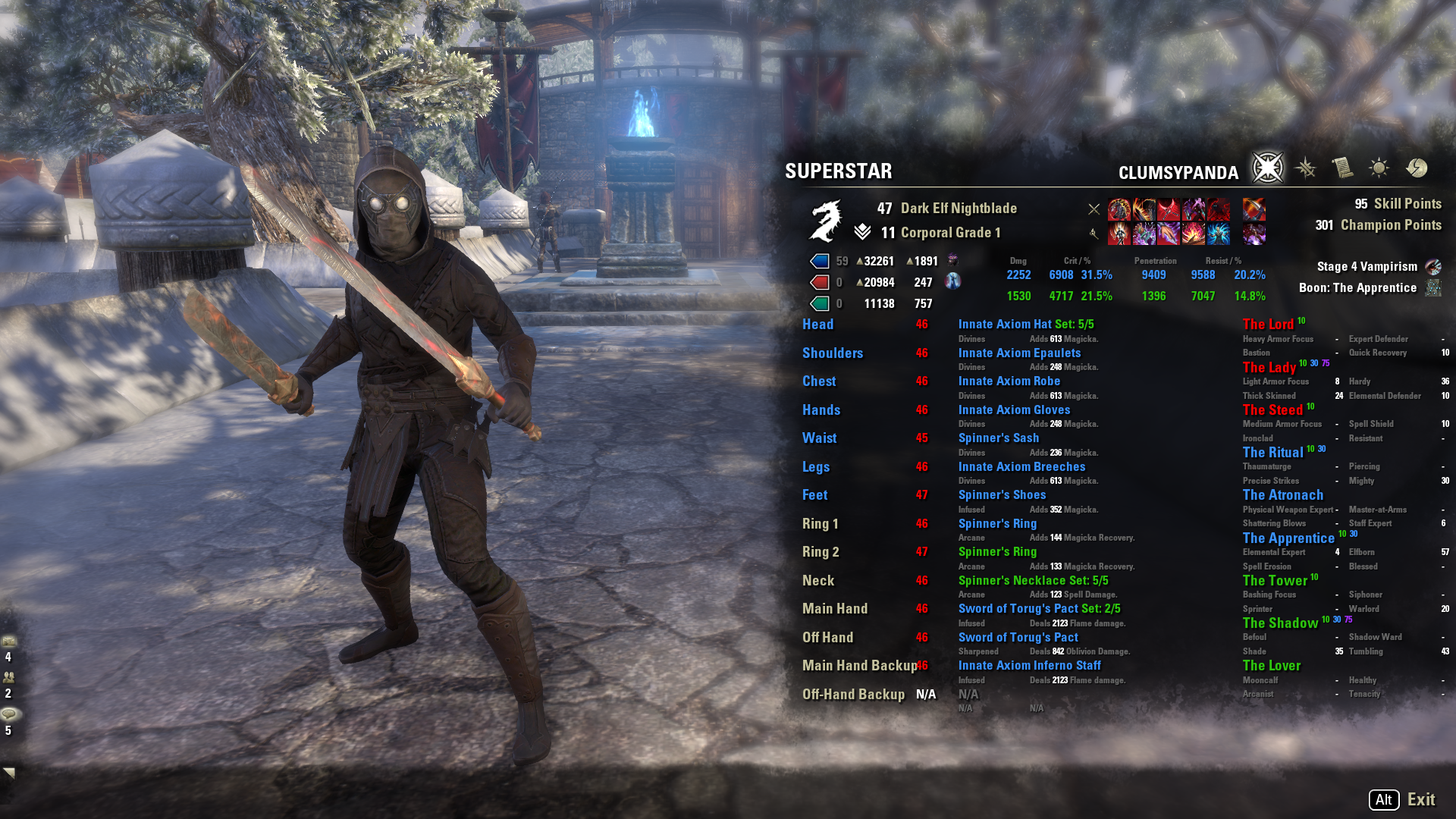 Class: NIGHTBLADE
Race: Dunmer (Dark Elf)
Main Role: Damage
Health, Magicka, Stamina
| | | |
| --- | --- | --- |
| HEALTH | MAGICKA | STAMINA |
| 0 | spend all ur point here | 0 |
Skills
Bar 1
Weapon 1: Dual Wield

Nightblade Skill
Double Take

Nightblade Skill
Concealed Weapon

Nightblade Skill
Impale

Nightblade Skill
Lotus Fan

Nightblade Skill
Shadowy Disguise

Nightblade Skill
Incapacitating Strike
Bar 2
Weapon 2: Destruction Staff

Nightblade Skill
Piercing Mark

Nightblade Skill
Crippling Grasp

Nightblade Skill
Siphoning Attacks
Destruction Staff Skill
Destructive Touch

Light Armor Skill
Harness Magicka

Nightblade Skill
Soul Tether
Armor Types
| | | |
| --- | --- | --- |
| Light Armor | Medium Armor | Heavy Armor |
| 7 | 0 | 0 |
Gear and Item Set Info
INFO : this build is really cheap and very easy to get the set
---------------------------------------------------------------------------------------------------------------------------------------------
Equipment :
5x Innate Axiom
head = divines + max magicka enchant
shoulder = divines + max magicka enchant
jerkin = divines + max magicka enchant
gloves = divines + max magicka enchant
leg = divines + max magicka enchant
waist = divines + max magicka enchant
boots = divines + max magicka enchant
ring = arcane + magicka recovery enchant
ring = arcane + magicka recovery enchant
necklace = arcane + spell damage enchant
2x Torug's Pact (mainbar)
sword (mainhand) = infused + flame damage enchant
sword (offhand) = sharpen + oblivion damage enchant
1x Fire Staff (backbar) = infused + flame damage enchant
---------------------------------------------------------------------------------------------------------------------------------------------
Note :
Im using blue quality light armor and purple glyph. if u dont have blue jewelry, just use green quality its no problem.
Vampire stage 4, if u cant get vampire bite its no problem, u just cant move fast while sneak.
Mundus : The Apprentice
Potion : im using AP magicka potion, u can buy it in cyrodiil using AP point
Food : purple food, Witchmother's Potent Brew just buy it from guild trader, its really cheap tho
General Info
PLAY STYLE :
this build is for ganking, so u attack unprepared enemy.
use mark target to fight another nightblade or sneaky enemy.
buff up (siphoning attack, double take). in fire staff bar, hit enemy using heavy attack + destructive touch + crippling grasp. switch to mainbar, lotus fan + concealed + incap then impale. u need cast the skill really fast for insta kill enemy under 22k hp.
when fighting tanker, mostly use ur backbar, u need great timing to hit em using ur mainbar.
if u'r enemy more than 3 people. use soul tether, cast heavy attack and spam concealed. u can cast harness magicka and destructive touch if u need tho.
MORE INFO :
u can move fast, good sustain and damage tho. u can move really fast while sneak using double take and concealed weapon passive. harness magicka is really helpfull when u attacked by more people and its give u extra magicka then just run away.
bcz u are dunmer, u have more resistance by fire damage. its really help u from vampire negative effect.
if u think u need more crit resist. change divines traits to impen, change 2 jewelry to spell damage and 1 jewelry to magicka reco, then use astronach mundus stone.
-------------------------------------------------------------------------------------------------------------------------------------------
Q&A
A : why dunmer?
ME : i think dunmer is really balance race and reduce vampire negative passive. also u have extra fire damage.
A : why u use innate axiom? i think julianos is better
ME : when u check all of the skill bar u will noticed, mostly our damage come from class ability. thats why i use axiom. copared to julianos, u need 6 traits to craft it and axiom only need 2 traits, pretty easy for newbie to craft it.
A : why using incap, its for stamina build u noob.
ME : nah, incap deal disease damage and it increase ur damage by 20% if u hit em. its cheap and give stun. its really op right?
A : i think piercing mark is not really good for this build.
ME : u can change that skill tho, its optional skill, u can change it to merciless resolve
A : why dual wield?
ME : actually dw is my playing style. i enjoy when fighting using dw. and dw sword give u passive extra damage done. (DUAL SWORD ONLY)
A : i dont want become vampire, but i still need that sneak movement bonus passive.
ME : just destroy that spinner set and change it to shadow dancer set, u can farm it in greenshade.
A : i cant get the spinner set !
ME : nah, boy change that to other set whatever u want, but i think getting spinner set not really hard. just run dolmen in malabal tor for jewelry and defeat delve boss or open chest for body pieces in there.
A : any recommend to replace spinner set?
ME : i recommend queen's elegant, silk of the sun, martial knowledge or stygian if u dont want using spinner, i try that set and its good tho. but stygian jewelry is hard to get.
A : why u run all divines?
ME : because i only know training and divines trait for light armor xD
A : why u using infused for weapon?
ME : dunmer give u bonus flame damage, thats why i using flame enchantment and ifused to make that flame damage hit harder.
A : u sucks
ME : thank you!
Champion Point Tips
no cp bcz we in nuub cyro server tho.
Build Rating