Stamblade glasscannon bow main gank build (low cost $)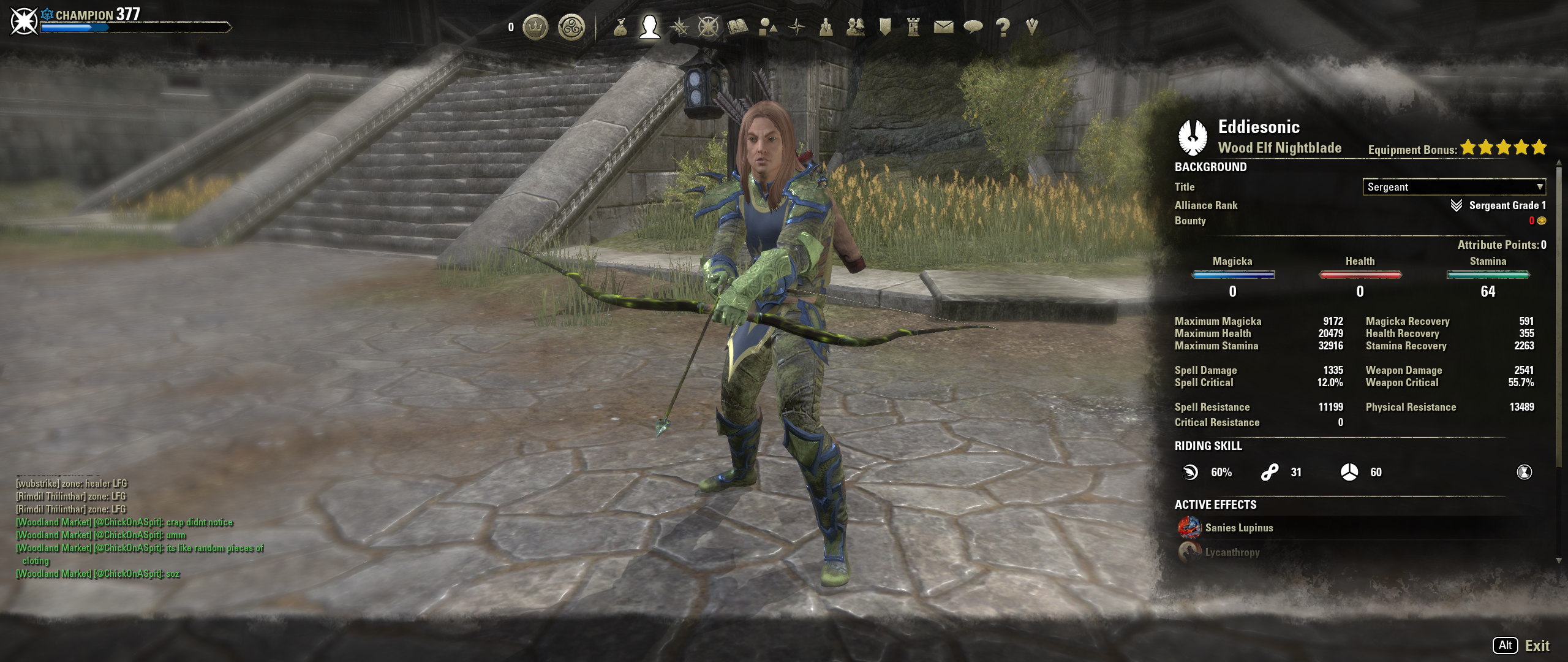 Class: NIGHTBLADE
Race: Bosmer (Wood Elf)
Main Role: Damage
Health, Magicka, Stamina
| | | |
| --- | --- | --- |
| HEALTH | MAGICKA | STAMINA |
| (0) 20k | (0) 9k | (64) 33k |
Skills
Bar 1
Weapon 1: Bow

Bow Skill
Lethal Arrow

Bow Skill
Venom Arrow

Fighters Guild Skill
Rearming Trap

Nightblade Skill
Relentless Focus

Fighters Guild Skill
Camouflaged Hunter

Fighters Guild Skill
Flawless Dawnbreaker
Bar 2
Weapon 2: Dual Wield

Nightblade Skill
Killer's Blade

Dual Wield Skill
Flying Blade

Dual Wield Skill
Quick Cloak

Medium Armor Skill
Shuffle

Assault Skill
Resolving Vigor

Assault Skill
Aggressive Horn
Armor Types
| | | |
| --- | --- | --- |
| Light Armor | Medium Armor | Heavy Armor |
| 0 | 7 | 0 |
Gear and Item Set Info
5 Marksman's Crest. 2 rings, 1 necklace, 1 bow, and 1 gloves. This gives massive stamina recovery as well reduces the cost of all stamina abilities by 5%. This set also gives weapon damage and increases the damage of bow abilities by 8%. All in all this set is great in pvp and pve.
5 Hunding's Rage. 1 chest, 1 waist, 1 feet, 1 legs and 1 shoulders. This set gives you massive raw damage and a ton of weopon critical. Always a good set, make sure to have all divines traits and stamina enchants on your armour for maximum dps.
1 Monster Helmet.1 head. Molag Kena, Mightu Chudan, Velidreth. Any monster set helm you prefer is fine. Divines and stamina enchant is ideal.
2 Leki's Focus. 2 daggers. 1 crusher enchant, 1 weopon dmg enchant. Both sharpened.
General Info
Mundus Stone - The Warrior.
Play in stealth. Start off with a lethal arrow followed by venom arrow. Once they are low switch bars hit them with flying blade and finish them with a killer's blade.
Champion Point Tips
My 377 champions are allocated towards the following.
Thief, 76 Warlord. 40 Mooncalf.
Mages, 72 Mighty. 33 Precise Strikes. 15 Thaumaturge. 5 Piercing.
Warrior, 56 Hardy. 40 Medium Armor Focus. 30 Elemental Defender.
Build Rating