5k wd gank build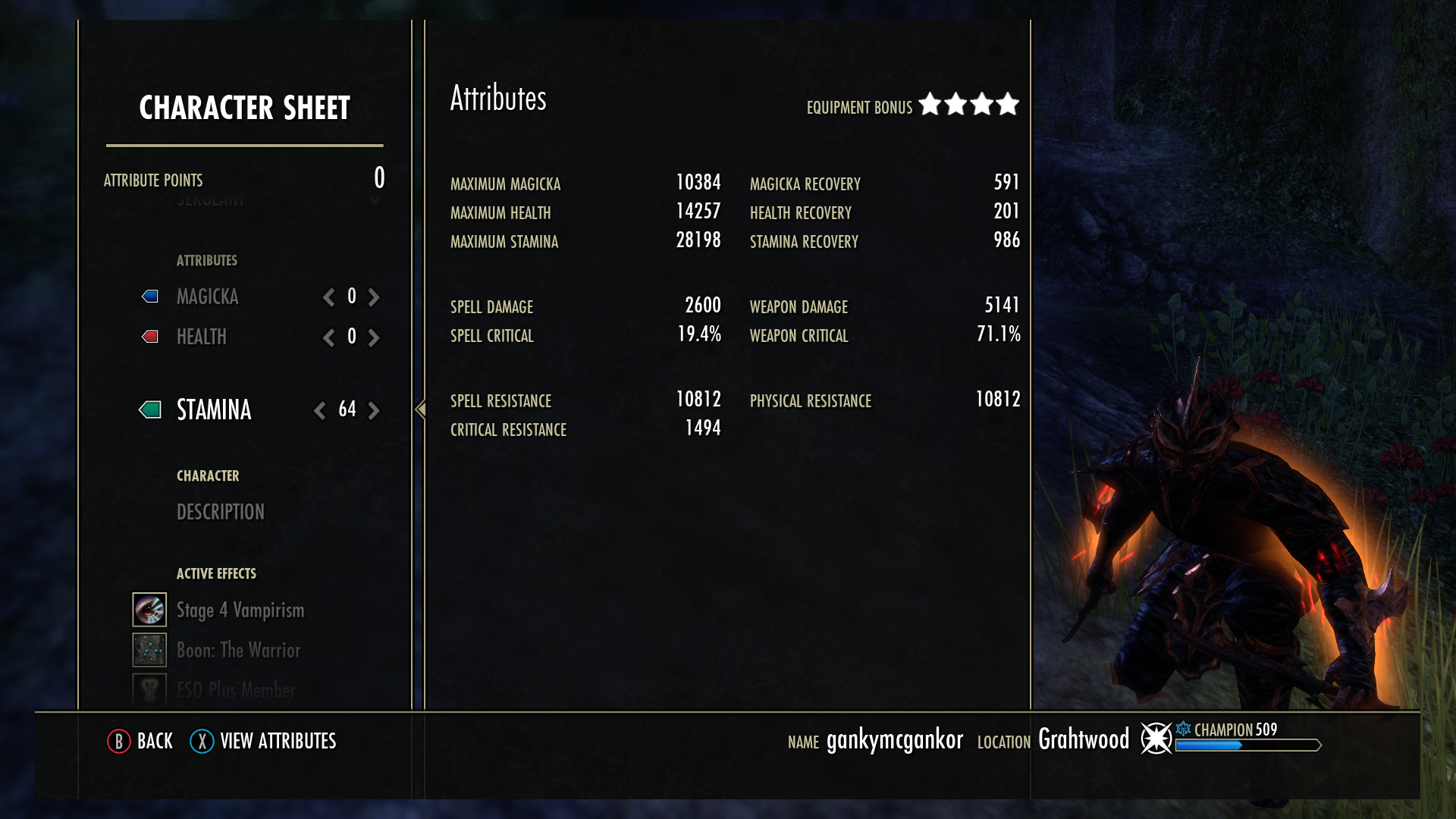 Class: NIGHTBLADE
Race: Khajiit
Main Role: Damage
Health, Magicka, Stamina
| | | |
| --- | --- | --- |
| HEALTH | MAGICKA | STAMINA |
| 23,000 | 10,000 | 33,000 |
Skills
Bar 1
Weapon 1: Bow

Nightblade Skill
Relentless Focus

Fighters Guild Skill
Camouflaged Hunter

Bow Skill
Poison Injection

Nightblade Skill
Shadowy Disguise

Mages Guild Skill
Radiant Magelight

Fighters Guild Skill
Dawnbreaker of Smiting
Bar 2
Weapon 2: Dual Wield

Assault Skill
Resolving Vigor

Nightblade Skill
Killer's Blade

Nightblade Skill
Surprise Attack

Nightblade Skill
Ambush

Nightblade Skill
Mass Hysteria

Nightblade Skill
Incapacitating Strike
Armor Types
| | | |
| --- | --- | --- |
| Light Armor | Medium Armor | Heavy Armor |
| 0 | 7 | 0 |
Gear and Item Set Info
For this non proc gank build I run x5 alchemist and x5 hundings and x3 agility.
Bow is alchemist and 4 body pieces of your choice. Traits are impen/divines and are really just shooters preference.
Dw is both hundings rage precise for the extra crit, and 3 body pieces of your choice.
Jewelery x3 agility
The screenshot at the top is without food/stamina buffs. Everything else is up to par.
General Info
I run max health and stam for this build and also stam/stam recovery.
important part about this build is using weapon damage pots.
With gold swords and weapon damage pots youll be sitting over 5k weapon damage with this build.
Also i use the slayer passive in the fighters guild for extra damage on the bow bar and magelight for empower.
Rotation as is follows: Relentless focus, shuffle, Weapon damage pot, heavy attack followed by poison inj, ambush and either killers blade or surprise attack depending on health. most people are within execute on heavy/poison inj attack alone.
Champion Point Tips
Blue: 100 mighty, 20 thaumaturge for poison inj damage increase, 30 precise and 30 bow expert.
Green:100 warlord, 70 mooncalf, 10 tumbling
Red: shooters preference
Build Rating